As inflation rose this year, interest rates has climbed significantly too. How do inflation and interest rates in Burlington, Vermont relate to each other? According to the latest data from The National Association of Realtors today, the typical monthly mortgage payment is now almost $700 higher that it was a year ago.
Surely, that will make you think about your home search but experts say that the expected mortgage rates should start to stabilize and will not continue to climb higher.
This chart below represents the latest mortgage projections from several industry experts: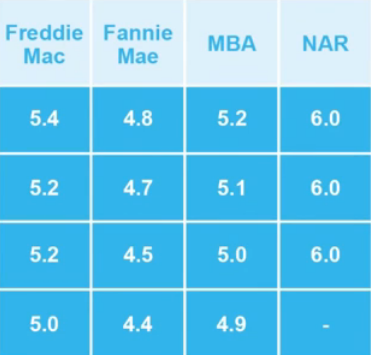 On average, they are forecasting that rates will remain steady over the next four quarters hovering in the low five percentage range. Inflation and interest rates are always related  as the important thing to note is that we need to watch what will happen to inflation to see how will the mortgage rate will respond.
Bottom line
The good news is, as inflation tend to climb higher, experts don't project that interest rates will continue to rise like it did earlier this year in Burlington, Vermont. The housing market is changing. Right now, you will need a trusted real estate advisor more than ever.
What is the best thing to do? If you are planning to make a move, you can connect with me so you can have a professional who's staying on top of the latest expert insights for you.
Also interest about what homeownership in Burlington, Vermont is like? Click this link to learn more.